About Us
HOW A SAILMAKER GOT INTO FASHION

HERITAGE
When the 22-year-old Douwe Gaastra established his sailmaker's shop in Sneek in 1897, his ambition was to sail faster and further, and he wanted to reinvent the age-old Dutch tradition of world-class, quality and craftsmanship.
That was more than a century ago and since then Gaastra has been transformed into a stylish and functional lifestyle brand that enjoys international renown.
Douwe Gaastra was not only young and enterprising, but also very ambitious.
He wanted to make sailing not only faster, but also more competitive and efficient. As a result, Gaastra quickly became a household name in the international sailing world.
But there is only a thin line between passion and fear. Douwe Gaastra lost his heart to the sea and focused on manufacturing the best sailing clothing. He knew that dealing with the water is all about respect and felt both an unspeakable love and an immense awe for the sea. To this day, we have therefore respected, cherished and followed Douwe's legacy.

OUR LOGO
SNEEK, FRIESLAND
Sneek is close to the Frisian lakes, including the Sneekermeer, and is internationally known for its canals and water sports. Sneek was officially allowed to call itself a city from 1456, which was the beginning of a flourishing period as a trading city that would last almost a century. In 1492 they started building a canal and a city wall, making Sneek the only walled city in Friesland at that time. The original water gate, which was part of the city wall, still exists and is a symbol not only for Sneek, but also for the mentality of this city, which is close to sailing and entrepreneurship. We are proud that the water gate is now the unique symbol of our brand, Gaastra International Sportswear.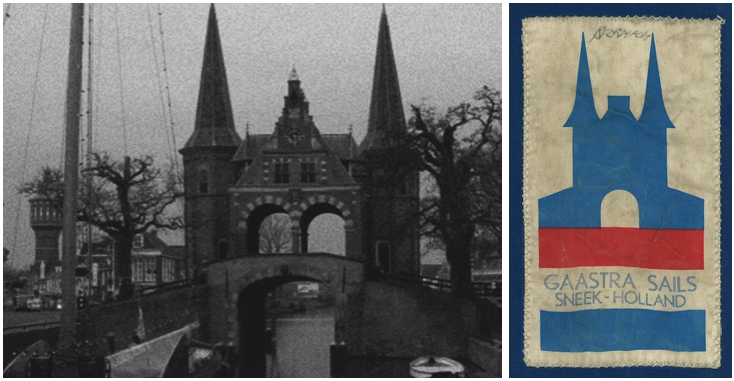 OUR MISSION
OPTIMUM FUNCTIONALITY AND DISTINCTIVE STYLING
Gaastra offers innovative

OCEAN TESTED LAND CERTIFIED
Ocean tested

Passion for the ocean, water sports, top quality and fun. These are deeply rooted in the Gaastra brand and its products. Gaastra is an authentic Dutch Lifestyle Brand with a heritage that is steeped in its DNA with pure nautical passion.
Gaastra owes its international reputation to a unique mix of functionality, durability and a fashionable touch, which is consistently implemented in all its products. Inspired by the adventurous and rebellious energy of sailors. Young, confident and willing to make a statement.
Land Certified

We have a passion for creating functional fashion. We create products that deserve environmentally friendly certification. We choose quality over quantity and push ourselves to make great products that are designed to last.
We have set an ambitious course and are determined to steer in the right direction. We understand the power of nature and have great respect for the elements. We don't ask questions to the sea, you just dress for the occasion.